Kuba Kucharski is a journalist by profession. After graduating from college he worked as a reporter, mostly covering the aviation and automotive industry. He also collaborated with various magazines and thematic portals in Great Britain. For many years now he has been involved in online marketing.
The book "In the Grip of Katrina"
This is the first Polish book based on the experiences of a group of Polish students who in 2005 faced the deadly threat of crossing Hurricane Katrina over New Orleans. This hurricane was one of the largest natural disasters in the history of the United States, after which the city returned to normal life for many years (more information here: kubakucharski.pl/en/about-the-book .)
The book was published on the Polish market on March 21, 2018 by the Annapurna Publishing House (www.annapurna-info.pl). The author of the cover is a well-known Polish painter – Szymon Chwalisz (www.facebook.com/chwalisz.szymon)
"In the Grip of Katrina" in May 2018 she was among the 30 bestsellers of the week at Empik in the non-fiction category. On the lubimyczytac.pl portal "In the grip of Katrina" receives a high rating of 8.2 / 10.
The idea to write a book appeared in Kuba Kucharski's head a few years after the events related to the passage of Hurricane Katrina over New Orleans. In the first phase of work on the book, these were activities related to collecting material, but above all learning about the culture and history of New Orleans. According to Kucharski, these were key elements in its creation. The book's unique value is the extensive epilogue created by the author, which introduces us to the history and processes of hurricane formation, history and culture of New Orleans, as well as the moment of rebuilding and securing the city just after the impact of Hurricane Katrina.
Prizes and awards
– Third prize in the 'Travel Book of the Year' category at the MEDIATRAVEL festival of Civilization and Media Art in 2018
– "The best book of the year" in the non-fiction category in a competition organized by the industry portal www.granice.pl
– "The best book for summer 2018" in a competition organized by the portal www.granice.pl
Media presence
– Dzień Dobry TVN
– TVN reportage prepared by Maria Mikołajewska
– Onet Rano with Jarosław Kuźniaar
– TVN 24 BIS
– Polish Radio
– Radio TOK FM
– Antyradio
– Natemat.pl
– Focus History
– RMF Classic
– Local media, internet portals, travel magazines
(more information HERE)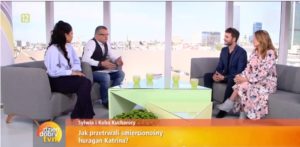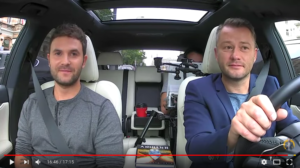 They expressed their opinions about the book, including
Jarosław Kuźniar, Onet.pl journalist, owner of goforworld.com
"I often say that travel is not always a vacation. The world today is not easy and safe. You have to look after him and yourself. Finding himself in the heart of Hurricane Katrina made a trip to the author's life a mere trip to the USA. He survived but different. He experienced the original behavior of people in extreme situations, felt fear. But he was carried away by this experience and described it a little therapeutically in the book. This is not a travel diary, but a strong life lesson. "
Kamil Bednarek, Artist, Musician
"I am convinced that the story written by my friend will change more than one person's perspective on the adventure that our life should be. For me it was an impulse to write the song "I'm taking you on a trip" to the album "Talizman".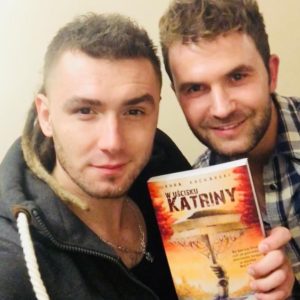 Public speaking
Kuba Kucharski shares his travel experience with great enthusiasm. Over the past few years, he has had dozens of public appearances, becoming a valued speaker. Among them were, among others author meetings in libraries, schools, community centers and festivals. During his colorful presentations he presents photos and videos of travels, mainly in the United States.
As one of the few Poles he stayed at the Superdome stadium during the impact of Hurricane Katrina on New Orleans. In Poland, considered missing, together with nearly 30,000 people who were at the stadium, he fought for survival. He witnessed human events and behaviors that are said to have no place in the "normal world". Today, as a speaker, he also shares this extreme experience, skillfully weaving it into everyday life.
GfK (Growth from Knowledge) research shows that 98 percent Poles feel stress from time to time. Every fifth Pole struggles with stress every day – both in private life and at work. Kuba Kucharski during dedicated speeches for companies and thematic conferences makes us realize that what most of us face every day can be only a substitute for what few of us will have to face at the least appropriate moment of their life.
Subjects of speeches:
– New York vs New Orleans – about life, people, career,
– How strong experiences we can experience during travel can re-evaluate life and get to know each other better
– Hurricane Katrina up close – facts, myths and everything you didn't know before
– Your topic (negotiable)
Where does it occur?
– Conferences
– Libraries and community centers
– Festivals
– Schools and colleges
– Companies
– Fair
– Company events
– Dedicated lectures for children and young people as well as for special environments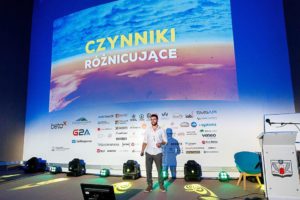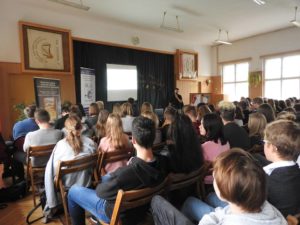 Articles
Kuba Kucharski is a journalist by profession. In his professional career, he wrote, among others, articles in the aviation and automotive industries. He collaborated with magazines and thematic portals in Great Britain, co-creating, among others lifestyle and travel portal addressed to the local Polish community. In his original project, which he called "Normal-Extraordinary", he interviewed athletes who became famous in Poland and abroad.
https://sportowefakty.wp.pl/pilka-nozna/257494/za-pilka-biegalem-juz-w-przedszkolu-rozmowa-z-markiem-citko#komentarz
Every day he cooperates with magazines on versatile topics. He publishes in their pages, among others travel articles about the USA.
Sample text for the magazine "All Inclusive" – ​​read here: W_zderzeniu_z_American_Dream
At your request, we will undertake the relevant texts.
Marketing support
In the years 2014 – 2019, Kuba Kucharski cooperated with the Google Agency Team, where he was responsible for the development of marketing agencies in the area of ​​Google Ads. Is the owner of the Adssem.pl agency, which deals with, among others:
– Google Ads
– SEO
– advertisement on Facebook, Instagram
– preparing professional company websites, internet stores, portals, blogs
– designing banners, logos, business cards
– other forms of promotion
If you are interested in cooperation in the selected field, please contact:
e-mail:  

kontakt@kubakucharski.pl

or by phone :

0048

693723514

.